From fans celebrating Pathaan release as Shah Rukh Khan day, an optimistic trade hoping the film will bring audience back to theatre and a bullish advance booking, it seems the film is building up to everything Bollywood had hoped for.
Actor Shah Rukh Khan's comeback vehicle Pathaan has brought cheer to his fans and, it seems, to the box office. As per reports, the film has already earned over Rs 50 crore in advance bookings for the first week. The superstar has chosen an out-and-out action thriller in Pathaan and this can very much be the inception of SRK 2.0.
To understand the impact of SRK's comeback and what it means to the fraternity and his fans, we got in touch with one of his fan clubs, trade expert and exhibitors.
Yash Paryani, 26, represents SRK Universe, one of the most active fan clubs of SRK. When asked how they're preparing for the actor's comeback on the big screen, Yash shares, " It is nothing less than a festival. We always celebrate his releases like a festival, and with Pathaan he is making his big comeback after four long years so it is extra special. We have missed seeing him on the big screen and we are going to turn this into a big celebration. We have screenings planned in over 200 cities, even in Mumbai. We used to have one screening for each of his movies, but this time we are having six screenings. We have five screenings in New Delhi, four in Kolkata, three in Aurangabad. We are also doing first day first shows in smaller cities like Nanded, Aurangabad, so we have massive plans. The first fan show in Mumbai is at 9 am at Gaiety Galaxy in Bandra. This has never happened in more than 15 years. There are places where shows are starting as early as 6 am."
Fan clubs play an important role in spreading the buzz and euphoria for the stars and SRK Universe is no different. "We have booked over 50000 tickets all over India to catch the first day first show. But we are not limiting ourselves to only that, we are going to celebrate Pathaan Day on January 26, it will be Republic Day with Pathaan followed by Pathaan weekend. It is not just a day's affair, we are looking forward to celebrating this movie in the grandest manner. There's a lot of excitement," shares Yash.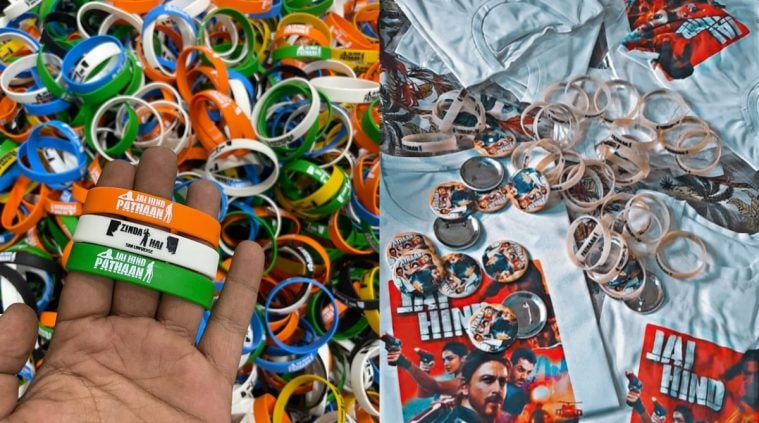 Sharing his worry about miscreants, he says, "Booking for other shows in all my cinemas is around 80-90%, so I am seeing the excitement about the movie among SRK fans. Boycott wali baat bhi lambi chaudi chal rahi hai so I am very worried about how it will be tomorrow and over the weekend. Until everything is settled as there is no protection."
What does trade have to say about SRK's comeback vehicle? What does the film's performance at the box office means for the business of cinema. Girish Johar, producer and film business expert calls the buzz and booking "very critical". Johar says, "We are expecting a rocking start to 2023, coming from a very bad couple of years starting from the pandemic in 2020. Two years of Covid-19 lockdown and then a dud show in 2022, this film will not only boost the confidence level but also bring the excitement back within the fraternity and the audiences. It hopes to get the entire system back on track, so it is a very critical wheel in the entire scheme of things."